Here are four riddles for kids where an x-ray is the answer for each one. These are therefore great for using with our other medical, anatomy and human body riddles.
The first three of these are rhyming riddles, with the word 'x-ray' completing the rhyme of the third.
The fourth of these is a What Am I riddle. To use that idea, read the clue that's on the first line to your children and have them try to guess what's being described. As the clue is that it's something that's black and white but which isn't a penguin, your kids might guess that it's a zebra, a newspaper or an old TV.
If they don't guess that the answer is an x-ray, read them the second clue and ask them to guess again. Keep going until they either work out that an x-ray is the answer or they run out of clues.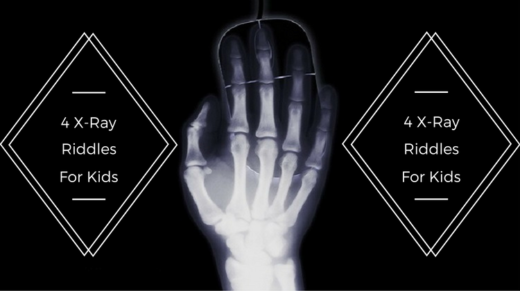 X-Ray Riddles For Kids
I am a type of scan
That's held up to the light
I can show broken bones
And I am black and white
~
If you have badly hurt yourself
And you're letting out lots of groans
Doctors might use this special scan
To see if you have broken bones
~
If you want to see your bones
You might choose to use this way
It scans them in black and white
Which means it is an _ – _ _ _
~
What Am I?
I'm black and white but I'm not a penguin
I'm sometimes used by a dentist but I'm not a drill
I'm found in a hospital but I'm not a scalpel
I help you to see bones but I'm not a skeleton
I'm created using radiation but I'm not the Incredible Hulk
~
Don't miss out on more great riddles like these ones -
sign up here
to get our free riddles for kids emailed to you throughout the week.