Our series of household item riddles continues today with another item that can often be found in a kitchen, as today's set all have a washing machine as their answer.
The first five of these rhyme, with the words 'washing machine' completing the rhyme of the fifth one.
The sixth idea is a What Am I riddle. To use that one, read the first line to your kids and ask them to guess the answer. The clue is that it gets filled with water but isn't a drinking glass, so your children might try guessing that it's a bathtub, a sink or a rain barrel.
If they don't guess that the answer is a washing machine, read them the clue that's on the second line and have them take another guess now that they have some further information. Keep going until they either guess correctly that it's a washing machine or they run out of clues.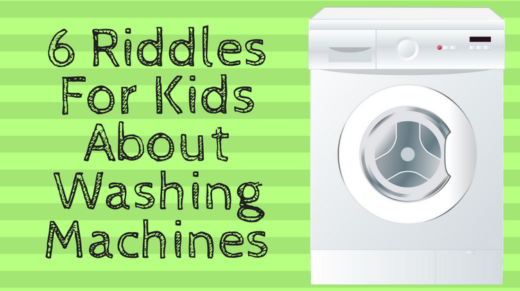 Washing Machine Riddles For Kids
This appliance
Will clean your shirt
When it has been
Covered in dirt
~
This is something in your house
Which is used because it cleans
It's not a dishwasher though
As it cleans your socks and jeans
~
If you have any dirty clothes
Then you will need to make use of this
If you go to a laundromat
You'll see lots of these appliances
~
I am something you can find in your house
That you would use when your clothes are dirty
Before going in a tumble dryer
You would usually first put them in me
~
When your jeans and T-shirts get dirty
Then you put them in this to get clean
It's filled with water and detergent
Which means that it's a _ _ _ _ _ _ _      _ _ _ _ _ _ _
~
What Am I?
I get filled with water but I'm not a drinking glass
I spin but I'm not a propeller
I clean things but I'm not a janitor
I'm a household appliance but I'm not a dishwasher
I have clothes put in me but I'm not a closet