Our series of geography riddles continues today with six that all have volcano as their answer.
The first five of them are rhyming ones, while the sixth asks your kids What Am I?
To use that final idea, read the clue on the first line to your children and have them take a guess at the answer. As it's something that produces ash but which isn't a bonfire, they might guess that it's a cigarette, BBQ or a fireplace.
If they don't guess correctly, read them the clue on the second line and have them guess again. Keep going until they either guess that the answer is volcano or they run out of clues.
If you're using these riddles as part of a science or chemistry activity, be sure to check out this volcano making kit.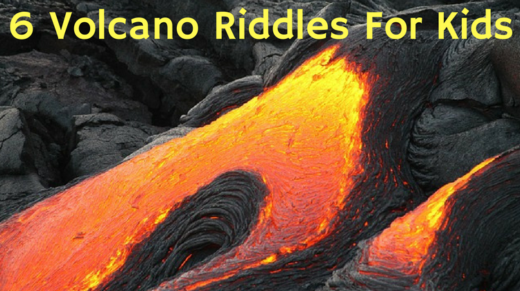 Volcano Riddles For Kids
Extinct or dormant
Or active maybe
Lava and magma
What could this thing be?
~
This can create dark clouds
But they don't contain snow
Beware of falling ash
And the hot lava flow
~
There are 45 active ones
On the island of Java
If one of them were to erupt
You would see lots of lava
~
There was one of these called Krakatoa
Which erupted in 1883
It was heard 3,000 miles away
And was one of the worst in history
~
These are objects which can erupt
Like Vesuvius that destroyed Pompeii
They pump out lava and magma
And spray ash and rock which land miles away
~
What Am I?
I produce ash but I'm not a bonfire
I can throw rocks great distances but I'm not a slingshot
I'm often a mountain but I'm not in the Himalayas
I have a crater but I'm not the moon
I erupt but I'm not someone with a bad temper