Our series of household item riddles continues today with five where the answer is a vacuum cleaner.
The first four of these are rhyming riddles, while the fifth is a What Am I riddle.
To use that final idea, read the first line of it to your kids and have them guess what they think the answer might be. As the clue is that it sometimes has a bag but isn't someone at the mall, they might guess that it's Santa, a golfer or a traveler.
If they don't guess that a vacuum cleaner is the answer, read them the clue on the second line and have them take another guess. Keep doing this until they either guess the correct answer or they run out of clues.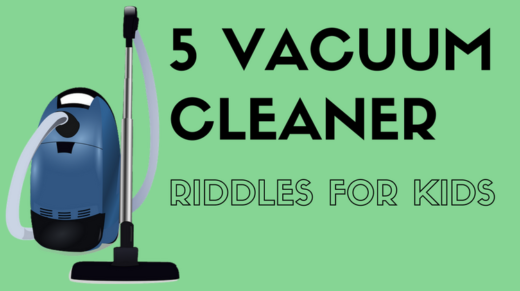 Vacuum Cleaner Riddles For Kids
This is a household appliance
But it doesn't clean your shirt
You push it all over the floor
And it sucks up all the dirt
~
If you want to have a clean home
This appliance is a must
Because it can clean all your floors
As it sucks up dirt and dust
~
I am something that cleans floors
Although I am not a broom
I'm able to suck up dirt
To clean carpets in each room
~
This often has two wheels
But it's not a bike you ride
Plug it in and push it round
And it cleans your floors inside
~
What Am I?
I sometimes have a bag but I'm not someone at the mall
I usually have two wheels but I'm not a bicycle
I have a plug but I'm not a bathtub
I clean but I'm not a janitor
I suck but I'm not a straw
~
Don't miss out on more great riddles like these ones -
sign up here
to get our free riddles for kids emailed to you throughout the week.