We're continuing our series of riddles for kids about household items today with five that all have an umbrella as the answer. That means that these pair perfectly with our other weather riddles as well.
The first four of these are rhyming riddles, while the fifth asks your children What Am I?
To use that final riddle, read the first line of it to your kids and have them take a guess at the answer. As the clue is that it's something which goes up when it's used, they might guess that it's a helicopter, an elevator or a hot air balloon.
If they don't guess that the answer is an umbrella, read them the clue on the second line and have them take another guess. Keep going until they either realize that an umbrella is the correct answer or they run out of clues.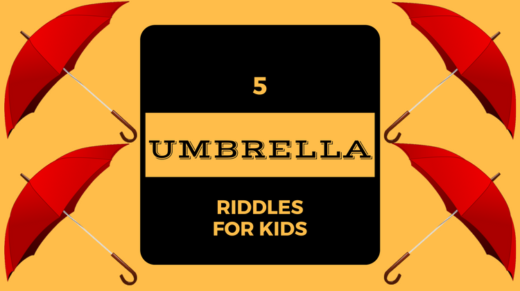 Umbrella Riddles For Kids
If you have one of these
Then dry you will remain
Hold it above your head
It will keep off the rain
~
There are times when you will get wet
But it is not because you cry
In rain hold this above your head
And it will help to keep you dry
~
If it is raining outside
You'd use one of these I bet
As it's held above your head
To keep you from getting wet
~
I am something that goes up
Although I am not a kite
I am held over your head
To help block rain or sunlight
~
What Am I?
I go up when I'm used but I'm not a balloon
I have a handle but I'm not a car door
I get wet but I'm not a washcloth
I go above your head but I'm not mistletoe
I'm used in the rain but I'm not windshield wipers