Here are eight riddles for kids where the answer is a tree. These are therefore great for using with our other riddles relating to trees as well as nature.
The first six of these are rhyming riddles, with the word 'tree' completing the rhyme of the sixth, while the seventh is a one line riddle that also contains a rhyme.
The eighth of these riddles asks your children What Am I? To use that one, read the first line to your kids and have them take a guess at what they think the answer might be. As the clue is that it's something that can be chopped but which isn't a carrot, they might guess that it's a potato, an apple or an onion.
If they don't guess that a tree is the answer, read them the clue that's on the second line and have them take another guess now that they have some extra information. Keep doing this until your kids either guess that the answer is a tree or they run out of clues.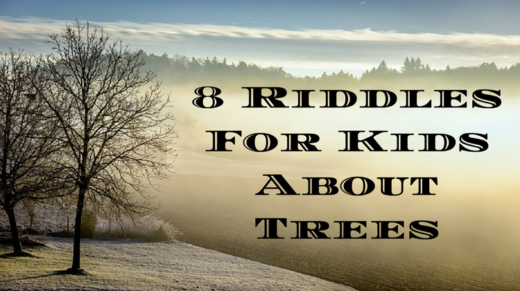 Tree Riddles For Kids
When this thing is very young
It's known as a sapling
Every year as it grows
It gains an extra ring
~
This is something with a bark
But it doesn't have a bite
With a lot of sun and rain
It can grow to a great height
~
I am something that's cut down
To make paper and card
I'm where you might build a house
Up high in your backyard
~
Some of these are deciduous
And some of these are evergreen
It has a trunk, branches and leaves
In a forest this can be seen
~
I am something that has bark
Although I am not a dog
When somebody cuts me down
I might end up as a log
~
This is a simple riddle
I think you will agree
This thing has leaves and a trunk
Which means that it's a _ _ _ _
~
Deciduous or evergreen, in a forest is where I'm seen
~
What Am I?
I can be chopped but I'm not a carrot
I have rings but I'm not an onion
I can be climbed but I'm not a mountain
I'm made of wood but I'm not a table
I have a trunk but I'm not a car