We're continuing our series of riddles with a food theme this week, with today's set having 'tortilla' as an answer.
The first couple of them are rhyming riddles, with the third asking What Am I?
To use the What Am I? riddle, your children should read the first line and guess what they think is being described.
If they're not correct, they should move on to the second clue and guess again. Keep going until they guess the right answer or run out of clues.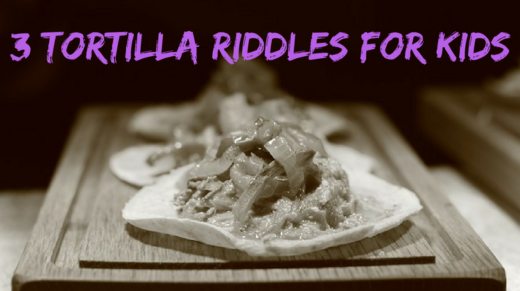 Tortilla Riddles For Kids
Ground beef, sour cream, guacamole
Rice, pinto beans and cheese
To finish making a burrito
They're wrapped in one of these
~
I'm often eaten with salsa
When I've been cut up and fried
When you get a quesadilla
I am what forms the outside
~
What Am I?
I'm round but I'm not a steering wheel
I can be a type of chip but I'm not found in a computer
I'm sometimes called a wrap but I'm not an item of clothing
I can be made of corn but I'm not a breakfast cereal
I'm part of a burrito but I'm not ground beef