We're continuing our series of weather riddles today with five that all have tornado as the answer.
In addition to the weather theme, the first idea could also be used with our other Wizard Of Oz riddles.
The first four of these are rhyming riddles, while the fifth asks your children What Am I?
To use that final idea, read the clue on the first line to your kids and ask them to guess the answer. As the clue is that it's something with an eye but which can't see, they might guess that it's a potato, a needle or a storm.
If they don't guess that the answer is a tornado, read them the clue on the second line and ask them to take another guess. Keep doing this until they either work out the correct answer or they run out of clues.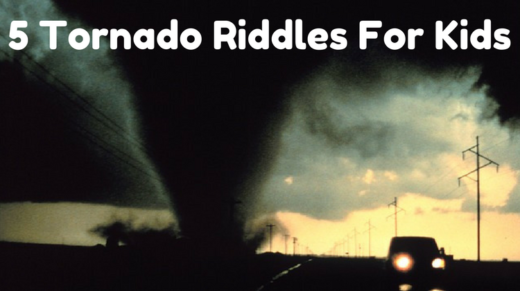 Tornado Riddles For Kids
This is a type of weather
A phenomenon that was
What caused the house to lift up
In the film Wizard Of Oz
~
If there's one of these nearby
Make sure you don't just stop and stare
Get in a shelter and hide
From this twisting column of air
~
This is a type of extreme weather
That stretches from earth to sky
It is strong enough to uproot trees
Its center is called an eye
~
In an alley from Nebraska to Texas
This is something which at times can be found
It's often followed by daring storm chasers
And can sometimes rip buildings off the ground
~
What Am I?
I have an eye but I can't see
I rotate but I'm not the earth
I have a spout but I'm not a teapot
I can destroy buildings but I'm not dynamite
I'm in the Wizard Of Oz but I'm not a witch