We're currently publishing a series of riddles for kids that are all household items, the first few of which all have something to do with a bathroom.
Today's collection all have a toilet as their answer. The first four of them are rhyming riddles, while the fifth asks your kids What Am I?
To use that final idea, read the first line of it to your children and have them guess what they think the answer might be. As the clue is that it's something that's white but isn't snow, they might guess that it's milk, a sheep or a slice of bread.
If they don't guess that the answer is a toilet, read them the clue that's on the second line and ask them to take another guess now that they know a little more about the item. Keep doing this until they either realize that a toilet is the answer or they run out of clues.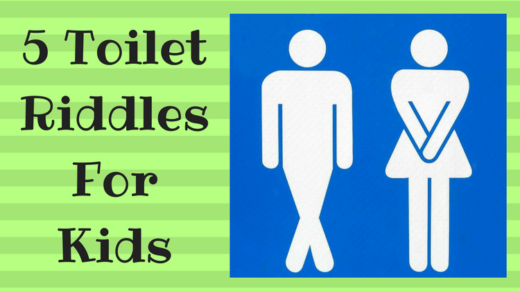 Toilet Riddles For Kids
If you go to the UK
British people call them loos
You find them in the bathroom
They're for number ones and twos
~
This is something that's usually white
But it's not a tooth that's just been brushed
It can be found in the bathroom though
It has a tank and bowl and gets flushed
~
If you're sitting on me
Then paper you will need
I'm always getting flushed
When you have pooped or peed
~
This is something that is white
In a bathroom it is seen
One outside that doesn't flush
Often gets called a latrine
~
What Am I?
I'm white but I'm not snow
I have a bowl but I don't hold cereal
I have a tank but I'm not in the military
I can be sat on but I'm not a bench
I get flushed but I don't have a red face