Our series of riddles for kids about household items continues today with five where the answer is a toaster.
These can also therefore be used with our other riddles about appliances and things you can specifically find in a kitchen.
The first four of these are rhyming riddles, with the word 'toaster' completing the rhyme of the fourth one.
The fifth and final riddle asks your kids the question What Am I? To use that riddle, read your children the clue listed on the first line and ask them to try to guess the answer.
The clue is that it's something in their house but which isn't a TV. As the clue is quite vague, they might guess that it's a bed, a toothbrush, a sofa or one of many other possible objects.
If they don't get lucky and guess that a toaster is the answer with their first guess, read them the second clue and ask them to take another guess. Keep going until they either realize that the correct answer is a toaster or they run out of clues.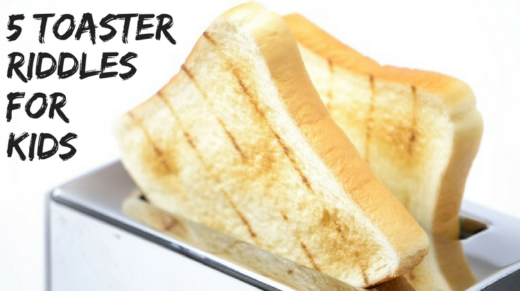 Toaster Riddles For Kids
This small kitchen appliance
Gets pushed down and then it starts
It's used for slices of bread
Or for heating up Pop-Tarts
~
When you're hungry in the morning
This will help ensure you're fed
It's a small kitchen appliance
Which can cook slices of bread
~
I'm something in your house
But I am not your bed
As I'm in your kitchen
I'm used to cook your bread
~
This is something in your house
But it's not a drinks coaster
You put in slices of bread
And push down – it's a _ _ _ _ _ _ _
~
What Am I?
I'm in your house but I'm not a TV
I get pushed down but I'm not a plunger
I have several temperature settings but I'm not a microwave
I have a filament but I'm not a light bulb
I often contain bread but I'm not a sandwich