We're continuing our series of weather riddles for kids today with five where the answer is thunder.
The first four of these are rhyming riddles, while the fifth asks your children What Am I?
To use that last one, read the first line to your kids and ask them to take a guess at the answer. As the clue is that it's something that can't be seen but which isn't a ghost, they might guess that it's the wind or the invisible man.
If they don't get the right answer, read them the second clue and ask them to take another guess. Keep doing this until they either work out that thunder is the answer or they run out of clues.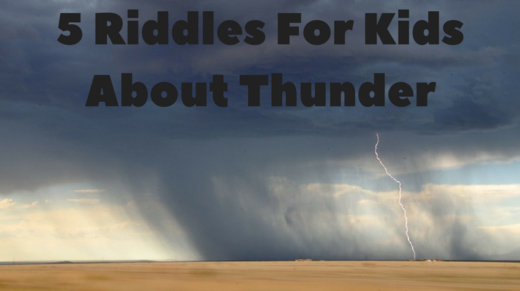 Thunder Riddles For Kids
This appears in a bad storm
But it's not a big rain cloud
It's what follows a lightning bolt
And can be extremely loud
~
I happen after a flash
But I'm not a photograph
You hear me in a bad storm
I am lightning's other half
~
You can hear me rumble
After a flash of lightning
I am named after Thor
Who's the Norse god of this thing
~
When it's really stormy outside
This is something you hear
It happens straight after lightning
When it is very near
~
What Am I?
I can't be seen but I'm not a ghost
I can crack but I don't break
I can clap but I don't have any hands
I happen after a flash but I'm not a photo
I'm loud but I'm not music
I happen during a storm but I'm not lightning