Here are seven riddles for kids where a table is the answer for each of them. These ideas are therefore great for using with all of our other household item and furniture riddles.
The first six of these riddles rhyme, with the word 'table' completing the rhyme of the sixth.
The seventh of these is a What Am I riddle. To use that one, read the first line to your children and have them take a guess at what they think the clue might be referring to. As the clue is that it's something that has four legs but isn't a camel, they might guess that it's a cat, dog or a chair.
If they don't guess that the answer is a table, read them the second clue and ask them to take another guess. Keep going until they either work out that a table is the correct answer or they run out of clues.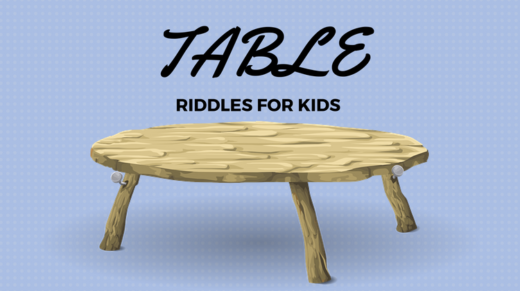 Table Riddles For Kids
This thing is often made of wood
I'm not talking about a stick
When listing all the elements
It comes after periodic
~
I am a piece of furniture
Which is often made of wood
If you need to eat your dinner
Sitting at me would be good
~
When you are feeling hungry
Then you will often eat at this
When you are playing ping pong
It comes before the word 'tennis'
~
Although I am not a plate
Your dinner is put on me
I can be periodic
For your bedside or coffee
~
I sometimes have leaves
But I'm not a tree
I'm sometimes bedside
And sometimes coffee
~
This is something with four legs
But it isn't an animal
It's a piece of furniture
You eat at it – it's a _ _ _ _ _
~
What Am I?
I have four legs but I'm not a camel
I'm flat on top but I'm not a horse
I sometimes have leaves but I'm not a tree
I come after coffee but I'm not a shop
I have food put on me but I'm not a plate