We're continuing our series of riddles for kids about household items today with five where the answer is a ladder.
The first four of these rhyme, with the fourth one also being perfect for using with our superstition riddles.
The fifth of these is a What Am I riddle. To use that one, read the clue on the first line to your kids and ask them to take a guess at the answer.
As the clue is that it's something that's often made of metal but which isn't a necklace, they might guess that it's a photo frame, soda can or a hammer.
If they don't guess that a ladder is the answer, read them the clue on the second line and ask them to guess again now that they know some extra information. Keep going until they either guess correctly that the answer's a ladder or they run out of clues.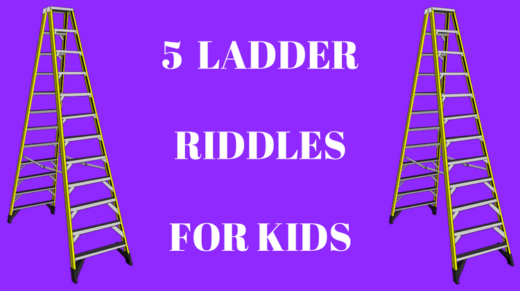 Ladder Riddles For Kids
You would put your feet on this
But it's not a ball you'd kick
Instead you would walk up one
To get into your attic
~
If there's something high you need to get
But you can't reach it as you're not tall
Then you might climb up the rungs on this
After leaning it against a wall
~
If your upstairs windows are dirty
So outside they need to be cleaned
You might use this to climb to reach them
Once against the wall it is leaned
~
If you know your superstitions
This riddle shouldn't get you stuck
If you walk under one of these
Then beware – you'll have bad luck
~
What Am I?
I'm often made of metal but I'm not a necklace
I'm often stored in a garage but I'm not a car
I can sometimes be extended but I'm not a deadline
I'm associated with a superstition but I'm not a mirror
I can help you reach things that are high up but I'm not a chair
~
Don't miss out on more great riddles like these ones -
sign up here
to get our free riddles for kids emailed to you throughout the week.