Today we're continuing our series of fruit riddles for kids with four where the answer is a strawberry.
The first three of them rhyme, with the word 'strawberry' completing the rhyme of the third riddle.
The fourth asks your children What Am I? To use that idea, read them the clue that's on the first line and have them take a guess at what they think it is that you're describing.
As the clue is that it's something red that isn't a stop light, they might guess that it's a pepper, a rose, a London bus or a heart.
If they don't guess that it's a strawberry, read them the clue on the second line and have them take another guess. Keep going until they either realize that a strawberry is the answer or until they run out of clues.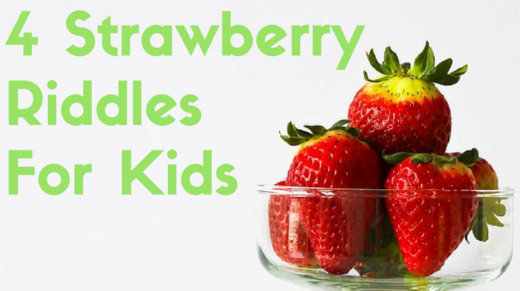 Strawberry Riddles For Kids
I am a fruit that's red
That's often used in a smoothie
I'm bought in a punnet
And made into jam and jelly
~
I'm sometimes in breakfast cereals
In small pieces which have been dried
I am a common fruit that is red
With many seeds on the outside
~
I am a common type of red fruit
But I am not a cherry
I'm used in milkshakes, yogurt, ice cream
And jam – I'm a _ _ _ _ _ _ _ _ _ _
~
What Am I?
I'm red but I'm not a stop light
I'm sweet but I'm not an M&M
I'm sometimes in a jam but I'm not a car during rush hour
I'm a fruit but I'm not an apple
I'm often a flavor of yogurt but I'm not a raspberry