We're continuing our series of school riddles for kids today with a few where the answer is a stapler.
The first couple of these are rhyming riddles, while the third asks your children What Am I?
To use the last option, read the first line to your kids and ask them to guess what it is that you're describing.
As it refers to pressing something down, they might guess that it's a hole punch, a car horn or another item. If they don't guess that the answer is a stapler, read them the clue on the second line and ask them to guess again.
Continue with this until they either guess correctly or run out of clues.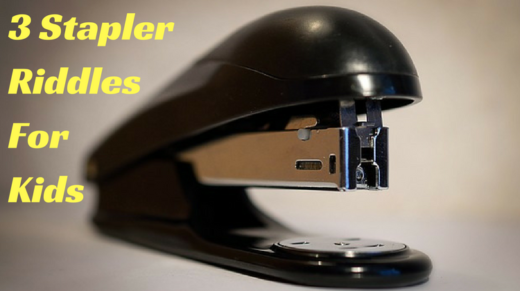 Stapler Riddles For Kids
Fill me up with metal
And let me do my thing
Get some sheets of paper
I'll have them attaching
~
This is something you'll find on a desk
It's used to fix one sheet to another sheet
Put the paper in it and push down
And it'll bend around two metal feet
~
What Am I?
I get pressed down but I'm not a button
I'm made of plastic and metal but I'm not a food blender
I have a spring inside but I'm not a bed
I bend pieces of metal but I'm not a steel worker
I keep pieces of paper together but I'm not a paper clip