Our series of riddles for kids about household items continues today with another item that can be found in a kitchen – a spoon.
The first four of these rhyme, while the fifth is a What Am I riddle.
To use that fifth idea, read the clue that's on the first line to your kids and ask them to take a guess at what they think the answer would be.
As the clue is that it's something that has a handle but which isn't a hammer, they might guess that it's a bag, a car door or a cupboard.
If they don't guess that the answer is a spoon, read them the clue found on the second line and ask them to take another guess now that they have some additional information. Keep doing this until they either work out that a spoon is the answer or they run out of clues.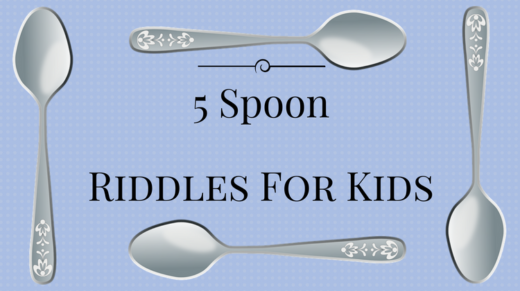 Spoon Riddles For Kids
I'm a piece of silverware
Although I am not a fork
But if I'm combined with one
Then you end up with a spork
~
This is something in your kitchen
Answer this riddle if you're able
You use it to help you eat food
It comes after soup, tea and table
~
I can sometimes be a verb
And I can sometimes be a noun
I'm a piece of silverware
That can reflect things upside down
~
Even though it is not a fork
It sometimes helps you eat a meal
Even though it is not a bowl
It is used when you eat cereal
~
What Am I?
I have a handle but I'm not a hammer
I'm usually made of metal or plastic but I'm not a clothes hanger
I'm found in a kitchen but I'm not a microwave
I can be used to measure things but I'm not a cup
I reflect things upside down but I'm not a house of mirrors