Here are four riddles for kids where the answer is a space shuttle. These are therefore perfect for using with all of our other space and transport riddles.
The first three of these are rhyming riddles, with the words 'space shuttle' completing the rhyme of the third one.
The fourth asks your kids What Am I? To use that one, read the first clue to your children and ask them to guess the answer.
As the clue says that it's something that goes up in the air but which isn't a balloon, they might guess that it's a bird, airplane, kite, drone or one of many other things.
If they don't work out that it's a space shuttle, read them the clue on the second line and have them guess again. Keep going until they either realize that space shuttle is the answer or they run out of clues.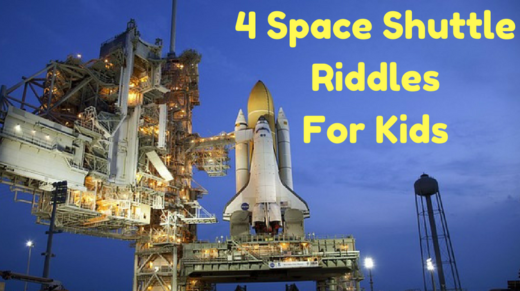 Space Shuttle Riddles For Kids
If you travel on one of these
An astronaut you must be
As it takes you to outer space
Where there's zero gravity
~
This is something you will need
To get back from outer space
To launch it you need rockets
Which will move it at great pace
~
You might take a journey in this
Launching at Cape Canaveral
It could take you up to the moon
You would be in a _ _ _ _ _       _ _ _ _ _ _ _
~
What Am I?
I go up in the air but I'm not a balloon
I have wings but I'm not a bird
I can transport people but I'm not an airplane
I've been to the moon but I'm not an astronaut
I've sometimes been called Discovery but I'm not a TV channel