Our series of household item riddles for kids continues today with six that all have a sofa as the answer. These are therefore also great for using with our other living room and furniture riddles.
A couch is also an acceptable answer, except with the third riddle as one of its clues is that it's also known as a couch. If you're in the UK, feel free to accept a settee as the answer.
The first four of these are rhyming riddles, while the fifth is a one line riddle which also has an internal rhyme.
The sixth riddle asks your children What Am I? To use that idea, read the clue that's on the first line to your children and have them attempt to answer it.
As the clue is that it's something with a back but which isn't a camel, there's a good chance that they'll guess that it's some other kind of animal. If they don't guess that the answer is a sofa, read them the second clue and get them to take another guess now that they have the extra information.
Keep doing this until they either work out that a sofa is the answer or they run out of clues.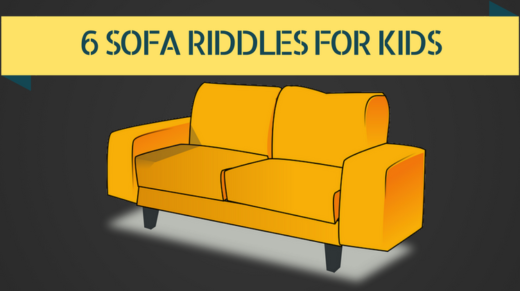 Sofa Riddles For Kids
This is in your living room
It's sometimes made of leather
If there's two or three of you
It helps you sit together
~
I'm in your living room
But I'm not a TV
I sometimes have two seats
And sometimes I have three
~
This is a piece of furniture
On which you might choose to slouch
It is found in your living room
And is also called a couch
~
Although this thing is not a bed
It's where you can lay down or sit
It is found in a living room
Two or three people it can fit
~
This thing can sit two or three while you all watch TV
~
What Am I?
I have a back but I'm not a camel
I have a frame but I'm not a bicycle
I'm found in a living room but I'm not a photo
I'm a piece of furniture but I'm not a coffee table
I'm sometimes made of leather but I'm not a jacket