Here are seven riddles for kids where the answer is a pair of socks. These are therefore great for using with all our other riddles about clothes.
The first five of these are rhyming riddles, while the sixth is a one line riddle which also contains a rhyme.
The seventh idea is a What Am I riddle. To use that one, read the clue that's on the first line to your kids and ask them to try guessing what they think the answer might be. As the clue is that it's something that comes as a pair but isn't binoculars, they might guess that it's a pair of scissors, underwear or glasses.
If they don't guess that socks is the answer, read your children the second clue and ask them to try guessing again. Keep going until they either work out that the answer is socks or they run out of clues.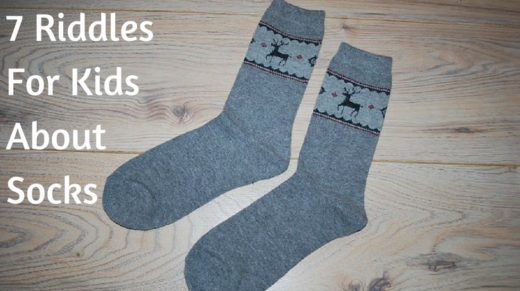 Socks Riddles For Kids
I'm something that you wear
That always comes in twos
I provide a layer
Between your feet and shoes
~
Sometimes these go to your ankles
Other times up to your knees
And then there's a Christmas stocking
Which is a large one of these
~
I'm a type of clothing
Which is L-shaped in form
When it is cold outside
I help keep your feet warm
~
These are a type of footwear
That sometimes go up to the knee
When reading Harry Potter
Giving Dobby one sets him free
~
I'm something that comes in twos
As I'm a matching pair
I'm often made of cotton
I'm a type of footwear
~
It's something that comes in twos, it's worn on feet in your shoes
~
What Am I?
I come as a pair but I'm not binoculars
I'm sometimes a tube but I don't contain toothpaste
I'm something you wear but I'm not jeans
I'm often made of cotton but I'm not a T-shirt
I get put on your feet but I'm not shoes