We're currently publishing a series of riddles that are all items you can find around the house, with all the recent ones being items that you can find in your bathroom.
That series continues today with several riddles for kids where the answer is 'soap.'
The first three of these rhyme, with the fourth asking What Am I? Here's how to use that final idea:
Read the first line of it to your children and ask them to guess what they think it is that you're describing. If they're not correct, read them the second clue and ask them to guess again.
Keep doing this until they either realize that the answer is soap or they run out of clues.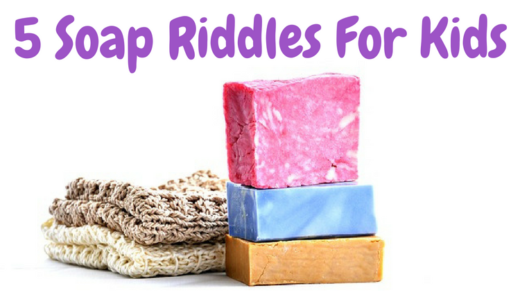 Soap Riddles For Kids
If your hands get really messy
And dirt is all that can be seen
Then use some of this with water
To help make sure your hands get clean
~
This can create a lot of bubbles
And comes as a liquid or a bar
If you never use any of this
Then people will smell you from afar
~
When I am mixed with water
Then I can perform magic
As I make dirt disappear
Leaving things clean is my trick
~
I get used many times a day
Mixed with plenty of water
Each time a bar of me is used
I get a little shorter
~
What Am I?
I'm sometimes a bar but I'm not made of gold
I'm sometimes a liquid but I'm not something you drink
I can create bubbles but I'm not a can of soda that's been shaken
I help you to get clean but I'm not a shower
I'm found by a sink but I'm not a faucet