Here are many different riddles for kids where the answer is snow (or snowflakes).
These are therefore perfect for using with many of our other riddle themes like:
There are also many different types of riddles listed below:
1. Rhyming – Most of these riddles rhyme. For a couple of them, the rhyme is completed by the word 'snow', which should help your kids to work out the answer.
2. One Line – This one is a little bit harder, so is probably better for using with older kids.
3. What Am I? – For this one, read the clue that's on the first line to your kids and get them to guess what they think the answer is. If they don't guess correctly, read out the second clue and have them guess again. Keep going until they either get the right answer or run out of clues.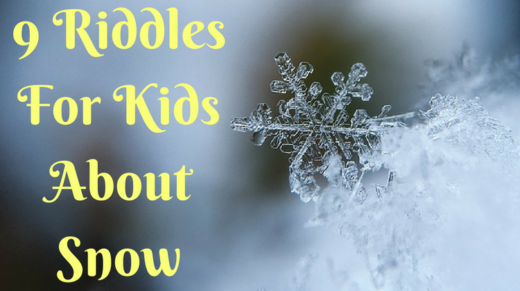 Snow Riddles For Kids
Dropping down from the sky
More beautiful than rain
There are no two pieces
That ever look the same
~
It isn't hail
And it isn't rain
But you love to see
This white stuff again
~
It's made up of flakes
But it doesn't come from corn
Way up in the clouds
Is where all these flakes are born
~
When it's cold in winter
This is something you love
It's like tiny white stars
Falling from up above
~
On a winter's day
When a cold wind does blow
You might get to see
This white stuff that's called _ _ _ _
~
The best thing about winter
Is when outdoors you go
And have a fight with your friends
Using balls made out of _ _ _ _
~
No matter how far
You travel or hike
You'll never find two
Flakes of this alike
~
This type of winter precipitation always has a unique variation
~
What Am I?
I fall but I never get back up
I'm unique but I'm not a fingerprint
I'm sometimes part of a ball but I'm not leather
If I get warm enough I go away but I'm not a winter wardrobe
I'm sometimes part of a man but I don't have any skin