Here are several different riddles for kids where the answer is 'Snow Angel'.
These are therefore perfect for using with many of our other riddle themes, like:
The first few of these are rhyming riddles, while the final one asks 'What Am I?'
To use the What Am I? riddle, read the first line of it to your kids and get them to guess what they think it is that you're describing.
If they don't guess the correct answer, read them the clue on the second line and have them guess again. Keep going until your children get the correct answer or they run out of clues.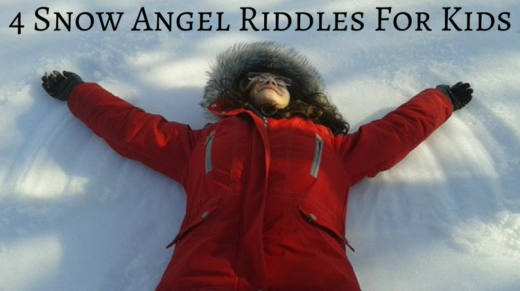 Snow Angel Riddles For Kids
If you lay down in white flakes
Out in the winter air
Move your arms and legs about
What is it you leave there?
~
This is something everyone loves doing
It can always take away a frown
It looks just like you're doing jumping jacks
Outside in the winter laying down
~
After the snowflakes have fallen
Laying in it is on my mind
Moving my arms and legs around
What is it that I leave behind?
~
What Am I?
I'm white but I'm not a sheet of paper
I'm something you leave behind but I'm not litter
I'm found on the ground but I'm not a sand castle
I'm made of precipitation but I'm not a puddle
I'm made by you moving your arms and legs but I'm not a jumping jack