For the last few weeks we've been publishing a series of animal riddles for kids. We're continuing that theme today with four where the answer to each one is snail.
The first three of them rhyme, while the fourth asks your children What Am I?
To use the final riddle, read the first line to your kids and have them guess what it is that's being described.
If they're not right, read them the clue on the second line and have them guess again. Keep doing this until they either guess that you're describing a snail or they run out of clues.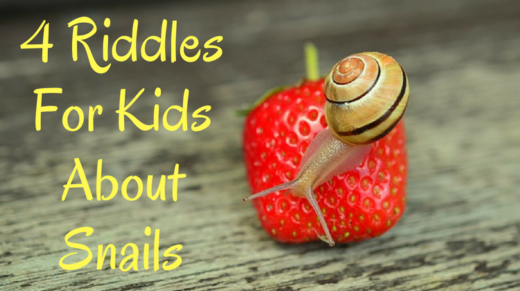 Snail Riddles For Kids
I travel very slowly
When gliding along the ground
Maybe my shell weighs me down
In your garden I am found
~
Because I can't move fast
Getting places takes some time
You can tell where I've been
As I leave a trail of slime
~
These things all have some shells
But they're not a box of eggs
They slide along the ground
As they don't have any legs
~
What Am I?
I'm found in your yard but I'm not grass
I move slowly but I'm not a sloth
I have a shell but I'm not an egg
I'm slimy but I'm not a slug
I'm eaten by French people but I'm not frog's legs