Today we have a few riddles for children where the answer is 'skis'.
These are therefore perfect for using with some of our other riddle themes like snow, winter, sports and transport.
The first three of these are rhyming riddles, with the third one being completed by the word 'skis', while the final one asks your kids "What Am I?"
To use the What Am I riddle, have them read the first line (or read it to them yourself) and get them to guess what the answer is.
If they're not correct, move on to the second line and guess again. Keep going until they either guess correctly or they run out of clues.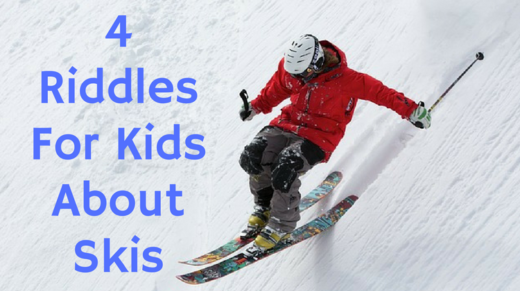 Skis Riddles For Kids
You put these on your feet
Whenever you go
To the top of mountains
To slide down the snow
~
To have fun in the winter
Head to a mountainside
Strap these on to both your feet
So downhill you can glide
~
To travel down some snow
You could always use these
Go up a mountainside
And come down on two _ _ _ _
~
What am I
I'm usually found on a mountain but I'm not a yeti
I'm long and thin but I'm not a hiking trail
I help you to go downhill fast but I'm not a set of wheels
I get put on your feet but I'm not a pair of socks
I help you slide on frozen water but I'm not a pair of ice skates