Our series of metal riddles is continuing today with six where the answer is silver.
Some of these can also be used with our other chemistry, jewelry and color riddles.
The first five of these are rhyming riddles, while the sixth asks your kids What Am I?
To use that sixth idea, read the first line to your children and ask them to guess the answer. As the clue is that it's a color but which isn't blue, they might guess that it's red, green, yellow or any number of other colors.
If they don't guess that the answer is silver, read them the second clue and ask them to guess again. Keep going until they guess the correct answer or they run out of clues.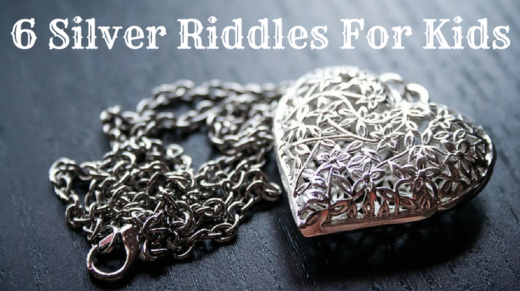 Silver Riddles For Kids
If you are an athlete
Who is running in a race
It's the type of medal
Which you get for second place
~
It is a type of metal
That's sometimes used for a necklace
It's not gold or copper though
Ag is the symbol for this
~
These are the color of bells
In a famous Christmas song
It's said clouds have this lining
Even when something is wrong
~
It's often used in jewelry
As it is a precious metal
If you're second in a race
It's the color of your medal
~
This is a type of color
But it's not yellow or blue
You'll need this type of bullet
If a werewolf's after you
~
What Am I?
I'm a color but I'm not blue
I can be a type of lining but I'm not found in clothing
I come before 'Bells' in a Christmas song but I'm not Jingle
I'm a type of metal but I'm not copper
I'm a type of medal at the Olympic Games but I'm not gold