Our series of country riddles continues today with four where the answer is Scotland.
The first three of them are rhyming riddles for kids, while the fourth asks the question What Am I?
To use that final option, read the first line to your children and ask them to guess what they think the answer is. There are quite a few countries with a blue flag, so they may not guess Scotland.
If they do guess incorrectly, read them the clue on the second line and ask them to take another guess. Keep doing this until they either work out that the answer is Scotland or they run out of clues.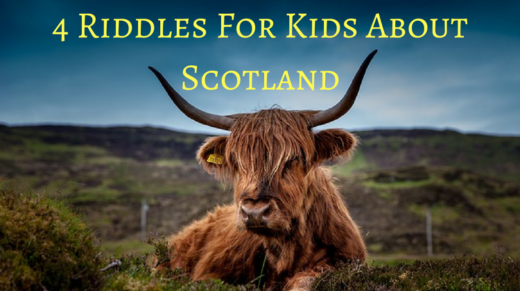 Scotland Riddles For Kids
I'm a country in Europe
My highest peak is Ben Nevis
I am known for my tartan
Tasty shortbread and haggis
~
Am I a part of Great Britain?
The answer to that question is yes
My capital is Edinburgh
And I have a monster in Loch Ness
~
Their national symbol is a thistle
And their flag is blue with a cross that's white
If you visit you might hear bagpipes
And a man in a kilt is quite a sight
~
What Am I?
I have a blue and white flag but I'm not Finland
I'm in Europe but I'm not Greece
I have a famous monster but it's not Bigfoot
I'm part of Great Britain but I'm not England
I'm well known for my bagpipes but I'm not Turkey