We've spent the last couple of months publishing riddles about items you can find around the house and we're continuing that series today with five riddles where the answer is a pair of scissors.
These ideas therefore also work well with all of our other kitchen, office and school riddles for kids.
The first three of these are rhyming riddles, while the fourth is a one-liner that has an internal rhyme.
The fifth of these is a What Am I Riddle. To use that one, read the clue that's on the first line to your kids and ask them to take a guess at what they think the answer might be.
As the clue is that it's something that comes as a pair but which isn't some socks, they might guess that it's a pair of headphones, underwear, shoes or glasses.
If they don't guess that the correct answer is scissors, read them the second clue and ask them to guess again. Keep doing this until they either work out that a pair of scissors is the answer or they run out of clues.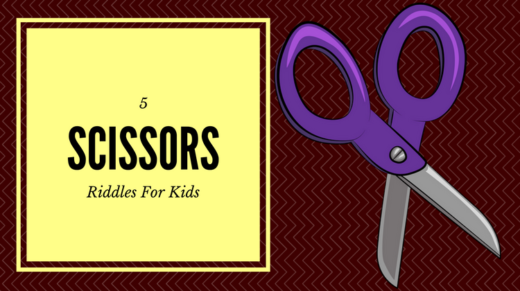 Scissors Riddles For Kids
Some are used for fabric
And some are used for hair
Some are used for paper
And one is called a pair
~
This item has handles
But it isn't a car
It also has two blades
But isn't a razor
~
I am a household item
But I am not a clock
I'm something that beats paper
But I'm beaten by rock
~
Of these you will need a pair if you want to cut some hair
~
What Am I?
I come as a pair but I'm not socks
I have two handles but I'm not a wheelbarrow
I'm usually made of metal and plastic but I'm not a bicycle
I have blades but I'm not a helicopter
I'm sometimes used to cut hair but I'm not a razor