Here are many different Santa Claus riddles for kids – riddles where the answer is Santa Claus (or Father Christmas, Kris Kringle, St Nick, etc).
Most of these are rhyming riddles, with the final rhyming one needing the words 'Santa Claus' to finish off the rhyme.
There's also a What Am I? riddle at the end. To use that one, read the clue from the first line to your kids and see if they can guess the right answer.
If they're incorrect, read out the clue on the second line and have them guess again. Keep going until they guess correctly or they run out of clues.
If you like these ideas, make sure you check out all our other Christmas riddles.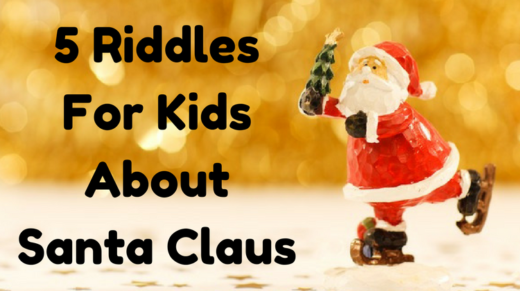 Santa Claus Riddles For Kids
You hardly ever see this man
But you know he has a beard
Even though he comes late at night
This man isn't to be feared
~
When he gets on his vehicle
He tells his animals to go go go
And he's a jolly old fellow
As he is always going ho ho ho
~
Hoping a stranger will break into your house
Would normally be quite weird
Except at Christmas when you want a visit
From this old man with a beard
~
I don't get in to houses
By walking through front doors
Instead I come down chimneys
My name is _ _ _ _ _      _ _ _ _ _
~
What Am I?
I have many animals but I'm not a vet
I wear a suit but I'm not a businessman
I live in the north but I'm not an Eskimo
I have a vehicle that moves very fast but it doesn't have any wheels
I come into your house at night but I'm the opposite of a thief