Here are four riddles for kids where salt is the answer, so these are great for using with all our other food riddles.
The first three of these are rhyming riddles, while the fourth asks your children What Am I?
To use that final idea, read the clue that's on the first line to your kids and have them try to guess what they think the answer might be. As the clue is that it's something which is white but which isn't milk, they might guess that it's snow, a piece of paper or a dove.
If they don't guess that the answer is salt, read them the clue that's on the second line and ask them to guess again now that they have some extra information. Keep doing this until they either guess that salt is the answer or they run out of clues.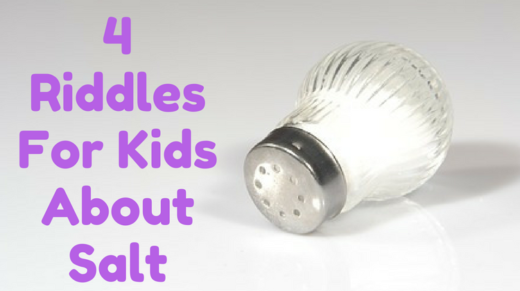 Salt Riddles For Kids
I'm something that adds flavor
I'm white and very small
I come after sea and rock
Epsom, bath and table
~
This is something that looks like sugar
But it's definitely not sweet
Nowadays it's used to add flavor
In olden days it preserved meat
~
This thing comes as a small grain
But it's not sugar or sand
It's often used when cooking
So that food doesn't taste bland
~
What Am I?
I'm white but I'm not milk
I'm small but I'm not snow
I come as a grain but I'm not rice
I'm added to food but I'm not sugar
I come in a shaker but I'm not pepper