We're continuing our series of food riddles today, with this collection all having an answer of 'rice'.
Five of these rhyme, while the final one is a What Am I? riddle. If you don't know how What Am I? riddles work, here's a quick explanation:
Read the first line of it to your kids (or have them read it themselves). They should then guess what it is that they think is being described.
If they don't give the right answer, read them the second clue and have them guess again. Keep going until they either work out that you're describing rice or until they run out of clues.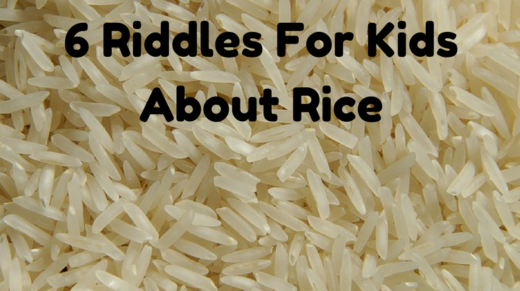 Rice Riddles For Kids
Sometimes at weddings
This food is thrown
A paddy field
Is where it's grown
~
I am eaten boiled or steamed
As part of a main meal
I can also be Krispie
In a breakfast cereal
~
In many parts of Asia
This grain is a staple food
It can be eaten sticky
Even though it's not been glued
~
I am sometimes eaten steamed
And served up in a dish
I'm also used in sushi
Along with some raw fish
~
There are many types of this food
Wild, brown and white to name a few
Before it ever reached your plate
A paddy field is where it grew
~
What Am I?
I can be brown or white but I'm not a loaf of bread
I can be sticky but I'm not a glue stick
I originally came from China but I'm not a panda
I grow in a field but I'm not corn
I'm used in sushi but I'm not a fish