We're continuing with our series of riddles about items found around the house today with five where the answer is a refrigerator. These therefore also work well with all of our other kitchen and appliance riddles.
The first four of them are rhyming riddles, with the fifth asking your kids What Am I?
To use the What Am I riddle, read the clue that's on the first line to your children and have them try to guess what the answer is. The clue is that it's something that has shelves but which isn't a bookcase, so they might guess that it's a grocery store, a cupboard or a garage.
If they don't guess that a refrigerator is the answer, read them the second clue and have them take another guess taking into account this extra information. Keep doing this until they either guess the correct answer or they run out of clues.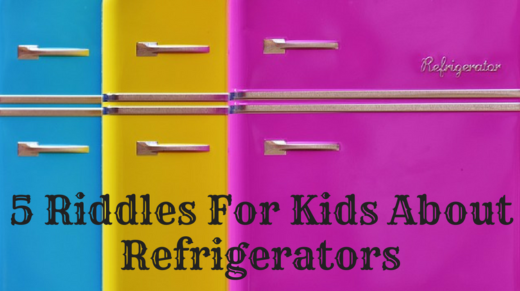 Refrigerator Riddles For Kids
This is something in your kitchen
Meat, milk and yogurt it does hold
The reason you put them in this
Is because it helps keep them cold
~
If you eat meat and dairy products
Then this is what you will keep filled
Because for them to be safe to eat
You need this to help keep them chilled
~
This is a kitchen appliance
If your height's 3 feet, this is taller
It has different food stored inside
It's not room temperature but cooler
~
This has something to control its temperature
But it's not an air conditioner unit
It is in your kitchen and it has a door
And it often has meat, cheese and milk in it
~
What Am I?
I have shelves but I'm not a bookcase
I have a door but I'm not a cupboard
I have a light but I'm not a lamp
I contain food but I'm not a grocery store
I'm cold inside but I'm not an igloo
~
Don't miss out on more great riddles like these ones -
sign up here
to get our free riddles for kids emailed to you throughout the week.