Today we're continuing our series of fruit riddles for kids with a collection that all have raisin as their answer.
The first three of these are rhyming riddles (with the word 'raisin' completing the rhyme of the third one), while the fourth asks your kids What Am I?
To use that final idea, read the clue that's on the first line to your children and ask them to take a guess at the answer. As the clue is that it's something small, there's any number of things that they might suggest.
If they don't get extremely lucky and guess that the answer is a raisin, read them the clue on the second line and ask them to take another guess. Keep doing this until they either guess correctly or they run out of clues.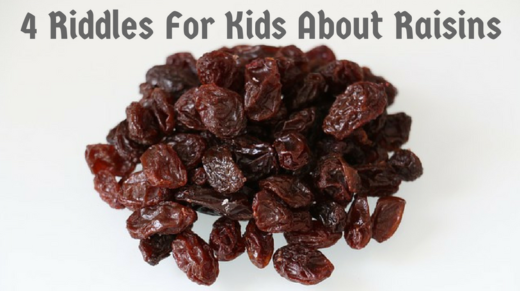 Raisin Riddles For Kids
If you like to eat small fruit
Then this one is sure to please
Because it is a dried grape
Used in oatmeal cookies
~
I'm sometimes in breakfast cereals
In a box of bran flakes I'm sprinkled
I am a grape that has been dried out
Which means that I am small and wrinkled
~
If you like your dried fruit
This small one is amazin'
It is a dried up grape
Which means that it's a _ _ _ _ _ _
~
What Am I?
I'm small but I'm not a baby
I'm wrinkled but I'm not an old person
I often come in a small box but I'm not a breakfast cereal
I'm dried but not by a towel
I'm a fruit but I'm not an apricot