Here are many different pumpkin riddles for kids.
These are great for using when creating fun activities for children, especially at Halloween, Thanksgiving and fall, or for games that have a food theme.
Most of these are rhyming riddles, although there's also one that asks several 'What Am I?' questions.
With the What Am I riddle, read the first line to your children and then get them to guess what they think you're talking about.
If they can't get the answer initially, read the second clue and have them guess again – keep going until they guess 'pumpkin' or they run out of clues.
Beneath the riddles, there are also some ideas of pumpkin-themed prizes if these are being used for some kind of a game that will have a reward.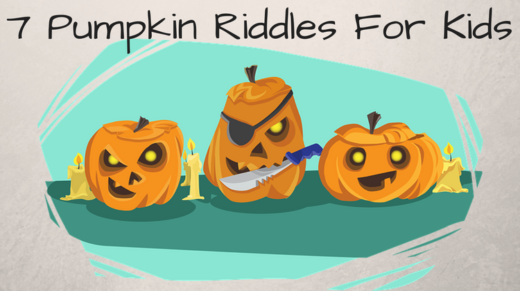 Pumpkin Riddles For Kids
You might pick up one of these
When you go out to a patch
Carve it, put in a candle
And then light it with a match
~
Something I spy
With my little eye
An orange squash
That's baked in a pie
~
Remove the seeds
And carve a face
Your front doorstep
Is where it's placed
~
You do this well
And carve it right
You're sure to give
Someone a fright
~
The bigger it is
The more it feeds
This orange squash
Has lots of seeds
~
If you buy a big one of these
Then you surely will not starve
As what's inside can feed many
And they're also good to carve
~
What Am I?
I have seeds but I'm not a watermelon
I can be made into a pie but I'm not an apple
I can be carved but I'm not roast beef
I'm orange but I'm not an orange
I'm associated with a patch but I'm not an eye
Pumpkin Prizes
As mentioned above, here are some ideas for pumpkin-themed prizes you could offer kids if you're using these riddles in a game – just click on the images to check them out on Amazon: