We're continuing with our series of food riddles this week, with today's batch all having 'potato' as their answer.
The first four of these rhyme, while the fifth is a one line riddle which also contains a rhyme.
The sixth of these is a What Am I riddle. To use that one, have your kids read the first line and take a guess as to what they think is being described. If they're incorrect, they should read the second clue and guess again.
They should keep going until they either guess that it's a potato being described or they run out of clues.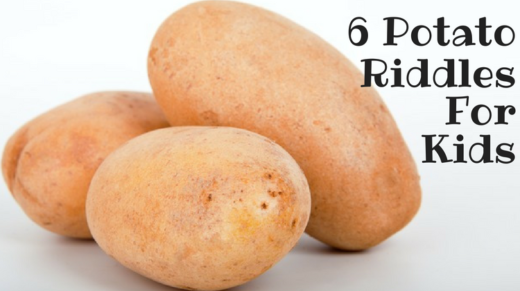 Potato Riddles For Kids
This is grown underground
But has skin and eyes
It can be eaten mashed
Roasted or as fries
~
I can be fried
Boiled and mashed
Roasted and baked
Scalloped and hashed
~
These are a type of starchy food
Mashed or fried they can be found
They often come from Idaho
And they are grown underground
~
Most people eat these
That is no surprise
They taste great as chips
And also as fries
~
I'm peeled and have eyes and I'm made into fries
~
What Am I?
I have eyes but I can't see
I have skin but I can't feel anything
I can be sweet but I'm not a piece of candy
I can be baked but I'm not a cake
I can be peeled but I'm not a carrot