Here are eight riddles for kids where a leaf is the answer. These are therefore perfect for using with our other tree, fall and nature riddles.
The first six of these are rhyming riddles, while the seventh is a one line riddle that also contains a rhyme.
The eighth and final one of these ideas is a What Am I riddle. To use that one, read the clue that's on the first line to your kids and ask them to try guessing what they think the answer might be. As the clue is that it's something that can be blown but which isn't a bubble (think leaf blower), your children might guess that the answer is a whistle, a candle or a kiss.
If they don't guess that the answer is a leaf, read them the second clue and have them take another guess. Keep doing this until they either work out that a leaf is the answer or they run out of clues.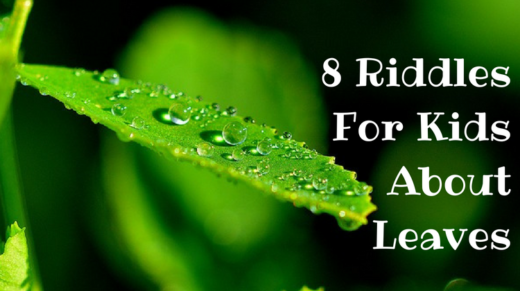 Leaf Riddles For Kids
This thing is usually green
But it's not a plate of peas
On the flag of Canada
There's a maple one of these
~
This thing's not a human body
But it often has some veins
It falls from a deciduous
On evergreens it remains
~
I'm sometimes big
And sometimes small
In the autumn
You see me fall
~
I am something that's thin and flat
On a branch I can be found
When I'm from a deciduous
In the fall I'm on the ground
~
This is something that's often green
Because of photosynthesis
You might turn over a new one
And it is part of a lettuce
~
Trees have many in the summer
But in winter they might have none
And there's a certain phrase that says
You can turn over a new one
~
Out in nature I can be seen, I don't fall from an evergreen
~
What Am I?
I can be blown but I'm not a bubble
I drop but I'm not a tear
I come in different shapes but I'm not a snowflake
I come in different colors but I'm not a cellphone
I come from a tree but I'm not an apple