Our series of fruit riddles continues today with four where the answer is a pineapple.
The first three of them are rhyming riddles for kids, with the word 'pineapple' completing the rhyme of the third one.
The fourth idea is a What Am I riddle. To use that one, read the first line of it to your children and ask them to guess the answer. As the clue is that it's something with hard skin but which isn't a rhinoceros, they will probably guess some other animal like an elephant.
If they don't guess that it's a pineapple, read them the clue on the second line and ask them to take another guess. Keep doing this until they either guess correctly that a pineapple is the answer or they run out of clues.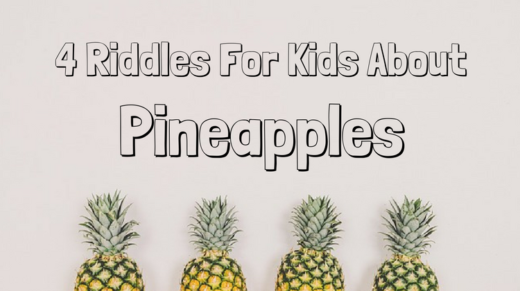 Pineapple Riddles For Kids
This fruit is made of two words conjoined
The first part of it is also a tree
The second part is a different fruit
And goes on a pizza from Hawaii
~
This is a popular tropical fruit
Which is used in a pina colada
Its inside is yellow, sweet and juicy
While the outside of it is much harder
~
This is yellow on the inside
And is a fruit that's tropical
It can be crushed, cut into chunks
Or rings – it is a _ _ _ _ _ _ _ _ _
~
What Am I?
I have hard skin but I'm not a rhinoceros
I'm sometimes cut into rings but I'm not a tree
I'm yellow on the inside but I'm not a mango
I'm a fruit but I'm not a banana
I'm a topping on a Hawaiian pizza but I'm not ham