We're continuing our series of household item riddles today with four where the answer is a pillow. These are therefore also perfect for using with our other bedroom riddles.
The first three of these are rhyming riddles, with the word 'pillow' completing the rhyme of the third one, while the fourth asks your kids What Am I?
To use that fourth idea, read the clue that's on the first line to your children and have them take a guess at the answer. As the clue is that it's something that's soft but which isn't a kitten, they might guess that it's a cotton ball, a marshmallow or a bunny.
If they don't guess that a pillow is the answer, read them the second clue and have them take another guess now that they have extra information. Keep doing this until they either guess that the answer is a pillow or they run out of clues.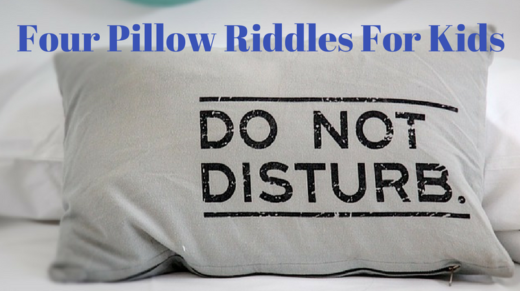 Pillow Riddles For Kids
This is something that is soft
Which you can find inside your home
It is where you lay your head
And contains feathers, down or foam
~
I'm something in your bedroom
You can find inside a case
I'm used by you every night
As it's where you rest your face
~
When it is late at night
And off to bed you go
The place you lay your head
That's soft is a _ _ _ _ _ _
~
What Am I?
I'm soft but I'm not a kitten
I'm usually rectangular but I'm not a loaf of bread
I have a case but I'm not a detective
I sometimes have feathers but I'm not a bird
I'm found beneath a head but I'm not a scarf