For the last couple of months, we've been publishing loads of different riddles for kids with a geography theme.
We're changing things up today with a set based on a different school subject theme. These riddles all have the periodic table as their answer, so could be used with our other chemistry riddles.
The first couple of these rhyme, while the third is a What Am I riddle.
To use that final idea, read the first line of it to your children and ask them to take a guess at the answer.
As the clue says that it's something that contains more than 100 things, there's a good chance that they're not going to guess that the answer is the periodic table.
If they do guess incorrectly, read them the clue on the second line and have them guess again. Keep doing this until they either guess the right answer or they run out of clues.
If you need some other activities to use with one or more of these riddles, check out these periodic table scavenger hunt ideas.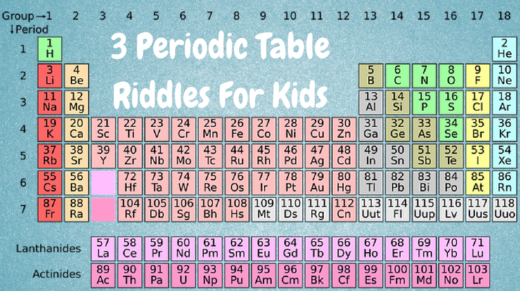 Periodic Table Riddles For Kids
Number one is hydrogen
Twenty-five is manganese
Sodium is eleven
What list contains all of these?
~
This list is very hard to remember
I'd be impressed if you were able
As there's more than 100 elements
It's called the _ _ _ _ _ _ _ _      _ _ _ _ _
~
What Am I?
I contain more than 100 things but I'm not a jigsaw puzzle
I contain metals but I'm not a car
I contain hydrogen and oxygen but I'm not water
I sound like I could be a piece of furniture but I'm not a flower bed
I'm used in chemistry but I'm not a test tube