Our series of fruit riddles continues today with four where the answer is a pear.
The last couple of them mention homophones, while the first one also makes a reference to the word 'pear' sounding like something. This might therefore mean that you need to explain homophones to your children – check out this explanation to help you.
The first three of these rhyme and the fourth is a What Am I riddle. To use that fourth idea, read the first line to your kids and ask them to guess the answer.
As that clue is that it's something that's usually green but which isn't grass, they might guess that it's a frog, a leaf or an apple.
If they don't guess that a pear is the correct answer, read them the clue on the second line and have them guess again. Keep doing this until they either guess that the answer is a pear or they run out of clues.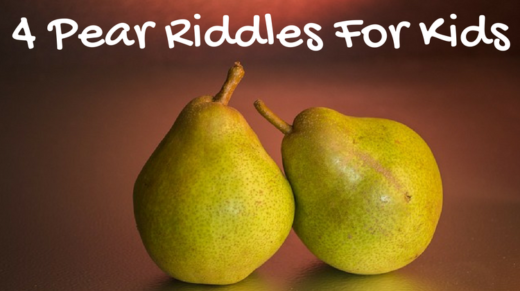 Pear Riddles For Kids
I am a fruit whose name sounds
As though there might be two of me
In a Christmas song there is
A partridge in this kind of tree
~
There is a Bosc, Anjou and Comice
As well as a Conference and Bartlett
Types of a fruit are being described
But are you able to name it?
~
This is a popular fruit
Which often has green coloring
Its name is a homophone
For when you have two of something
~
What Am I?
I'm usually green but I'm not grass
I'm something you can eat in The Twelve Days Of Christmas but I'm not a French Hen
I'm a homophone for when you have two of something but I'm not a duel
I grow on a tree but I'm not a leaf
I'm a fruit but I'm not an apple