We're starting a new series of riddles this week where the answers will be different types of food.
Today's set has several where the answer is 'orange.' In addition to these being good to use with our other food riddles, they could also be used with our other ideas that are based on different fruits and colors.
The first four of these rhyme, while the final one is a What Am I? riddle. To use that, read the first line of it to your kids and get them to guess what they think the answer is.
If they're not correct, read them the second line and have them guess again. Keep going until they either work out that you're describing the word orange or they run out of clues.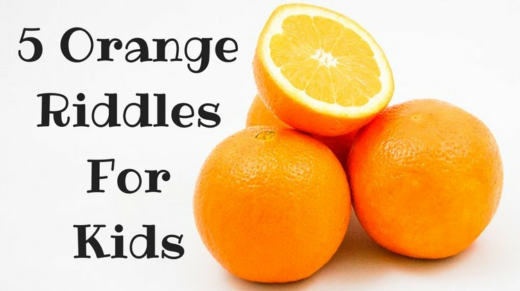 Orange Riddles For Kids
This is a fruit that
You might be fed
You just need to mix
Yellow and red
~
You might sometimes see this color
On the feathers of a parrot
It is the name of a fruit and
The same color as a carrot
~
Violet, red, blue and green
Yellow and indigo
What's the other color
You'd find in a rainbow?
~
This is a type of fruit
But it is not a lime
There are no other words
With which this word can rhyme
~
What Am I?
I grow on trees but I'm not a leaf
I'm spherical but I'm not a soccer ball
I provide juice but I'm not an apple
I'm sometimes naval but I'm not a sailor
I'm a color but I'm not red