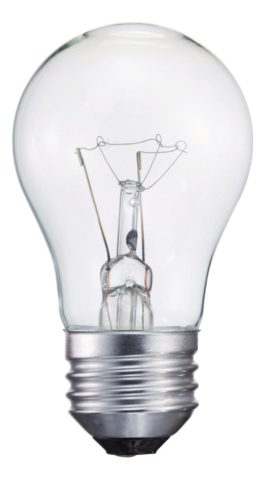 Our series of household item riddles is continuing today with six where the answer is a light bulb.
The first four of these are rhyming riddles for kids, while the fifth is a one line riddle which has an internal rhyme.
The sixth of these is a What Am I riddle. To use this one, read the first line to your kids and have them take a guess at the answer. As the clue is that it's something often used at night but which isn't a pillow, they might guess that it's a bed, a pair of pajamas or a toothbrush.
If they don't guess that a light bulb is the answer, read them the second clue and have them take another guess now that they have some additional information. Keep going until they either realize that the answer is a light bulb or they run out of clues.
Light Bulb Riddles For Kids
I can be found inside a lamp
Or on a chandelier
In cartoons I'm seen over heads
When there's a great idea
~
When you flick its switch on the wall
Then this thing up on the ceiling
Helps stop the room from being dark
As its brightness is revealing
~
I'm a common household item
As I am found in every room
Flick a switch, my filament glows
I dispel darkness and gloom
~
This item's name consists of two words
And around the house it can be found
The first word's the opposite of dark
The second gets planted in the ground
~
Over your head I appear when you have a great idea
~
What Am I?
I'm often used at night but I'm not a pillow
I'm usually made of glass and metal but I'm not a mirror
I have electricity flowing through me but I'm not a USB cable
I have a filament but I'm not a toaster
I'm bright even though I don't have any brains
~
Don't miss out on more great riddles like these ones -
sign up here
to get our free riddles for kids emailed to you throughout the week.