Here's a set of five riddles for kids where the answer is necklace. These are therefore perfect for using with our other riddles with a jewelry and Valentine's Day theme.
The first four of them rhyme, while the fifth asks your children What Am I? To use that final idea, read the first line to your kids and ask them to guess what they think the answer should be.
As the clue is that it's something which gets worn but which isn't a pair of shoes, they might guess that it's a T-shirt, a pair of jeans, some socks or one of many other things.
If they don't guess that necklace is the answer, read them the second clue and ask them to guess again. Keep going until they either get the correct answer or they run out of clues.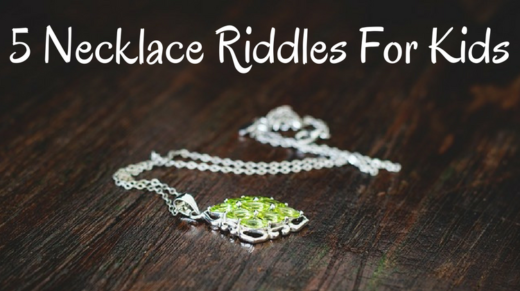 Necklace Riddles For Kids
This is a piece of jewelry
Most often worn by girls
It's sometimes gold or silver
And sometimes made of pearls
~
I am usually shiny
In a jeweler's I am sold
I sometimes hold a pendant
I've a chain that's made of gold
~
This is a type of common jewelry
But it is not a ring or bracelet
It is often made with a gold chain
Which holds up a pendant or locket
~
I am often made out of metal
But I am not made of tin or lead
I'm a type of popular jewelry
Hung on your body just below your head
~
What Am I?
I can be worn but I'm not a pair of shoes
I can be put on over your head but I'm not a T-shirt
I go around your neck but I'm not a scarf
I have a chain but I'm not a bicycle
I'm a type of jewelry but I'm not a ring