Here are three rhyming riddles for kids where the answer is 'Nativity Scene' or 'Nativity Set', as well as a 'What Am I?' riddle.
With the third 'complete the riddle' option, the answer would need to be 'Nativity Scene' in order for it to rhyme.
These are all perfect for using with our other Christmas riddles, when organizing a Christmas scavenger hunt at home or around your neighborhood or during some kind of Sunday School / kids church Bible game or activity.
These should be easy for children to solve, especially if they're given during December when their minds will already be on the festive season.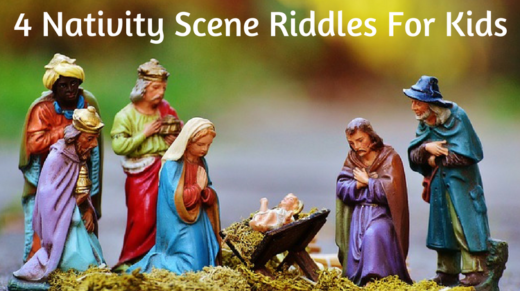 Nativity Scene Riddles For Kids
This may seem like a strange mix
But it's there for all to see
With parents, shepherds and kings
Some animals and a baby
~
This has three people holding gifts
And a few animals maybe
Plus shepherds, parents and angels
And in the center, a baby
~
If there are shepherds and a baby
Three kings but not a queen
It probably means you're looking at
A  _ _ _ _ _ _ _ _     _ _ _ _ _
~
What Am I?
I have a baby boy but I'm not a parent
I have animals but I'm not a zoo
I have a star but I'm not a solar system
I have angels but I'm not heaven
I have shepherds but no fields
I'm displayed in December but I'm not a Christmas tree