Here are several different mummy riddles for kids.
These are perfect for when you're organizing scary games, monster activities, Halloween parties or asking riddles about movies.
One of these is a riddle that asks the question What Am I? If you want to use this one, read the first line to your kids and get them to guess what they think the answer is.
If they get it wrong, read out the second clue and have them guess again. Continue doing this until they guess that the answer is 'mummy', or they run out of clues.
Beneath these are all kinds of different mummy goodies – movies, toys, educational items, costumes and more.
Many of these would make good prizes, especially when playing games like the toilet paper mummy.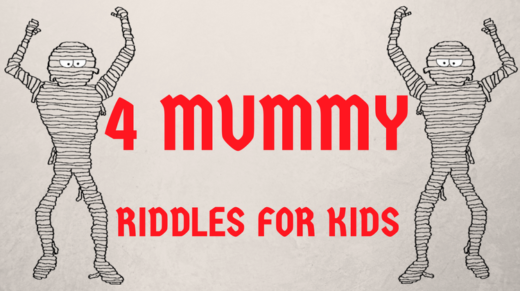 Mummy Riddles For Kids
If you are an archaeologist
And you dig up an old tomb
Beware this monster wrapped in linen
Or else you might meet your doom
~
The next answer that
Should escape your lips
Should be the creature
Wrapped up in cloth strips
~
This body wrapped in cloth
Was a Pharaoh it's said
Wait, is his arm moving?
Uh-oh – he's now undead!
~
What Am I?
I'm wrapped up but I'm not a gift
I've been preserved but I'm not something you'd eat
I was buried but I'm not a treasure chest
I'm often associated with Egypt but I'm not a pyramid
I come back to life in movies but I'm not a zombie
~
Mummy Items
As mentioned above, here are many mummy-themed items: