We've been publishing a series of geography riddles for the last few weeks and that continues today with five that all have 'mountain' as the answer.
The first four of these rhyme, while the fifth asks your kids What Am I?
To use that last idea, read the clue on the first line to your children and ask them to take a guess at the answer. As it's something which comes in a range, they might answer with something like 'opinions'.
If they're incorrect, read them the clue on the second line and ask them to guess again. Keep going until they either work out that the answer is mountain or they run out of clues.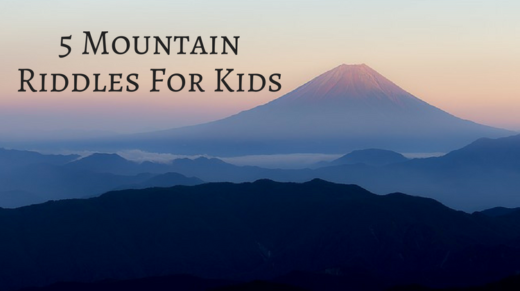 Mountain Riddles For Kids
I am something people like to climb
But I'm not a tree with branches
I have lots of snow at my summit
So beware of avalanches
~
It is higher than a hill
There's one in Japan called Fuji
Lots of them make up the Alps
And they're great if you want to ski
~
These landforms are so big
They cannot be missed
The world's most famous one
Is called Everest
~
These are things that can be climbed
Although they are not tall trees
You can go skiing on them
They're what make up the Rockies
~
What Am I?
I can come in a range but I'm not options
I'm tall but I'm not a skyscraper
I can be climbed but I'm not a tree
I'm often covered in snow but I'm not an igloo
I have a peak but I'm not a cap