Here are seven riddles for kids that all have a mosquito as their answer. These are therefore perfect for using with some of our other insect and nature riddles.
The first six of these are rhyming riddles, with the word 'mosquito' completing the rhyme of the sixth.
The seventh and final riddle asks your children What Am I? To use that one, read the clue that's on the first line to your children and ask them to guess what they think the answer might be. As the clue is that it's something that spreads disease but which isn't a sneeze, they might guess that it's a cough, germs or unclean water.
If they don't guess that the answer is a mosquito, read your kids the clue that's on the second line and have them take another guess. Keep doing this until they either give a mosquito as the answer or they run out of clues.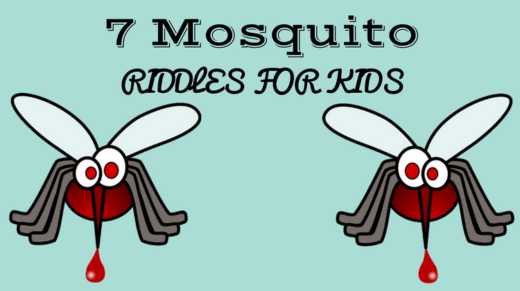 Mosquito Riddles For Kids
This is something that can fly
Although it is not a kite
It's an annoying insect
Which is small and likes to bite
~
Although I have some wings and fly
I am not a mallard duck
Although I'm not a vampire
On your blood I like to suck
~
When in a foreign country
You might sleep under a net
So from this flying insect
An itchy bite you won't get
~
If you ever get bitten by me
You might rub cream on that area
If you're in some countries overseas
My bite can give you malaria
~
This is a type of insect
Although it's not a bunch of fleas
It bites and sucks people's blood
So spreads viruses and disease
~
This is something that can cause pain
But it's not stubbing your big toe
Instead it is a small insect
It bites – it is a _ _ _ _ _ _ _ _
~
What Am I?
I spread disease but I'm not a sneeze
I'm an insect but I'm not a spider
I can fly but I'm not an ant
I bite but I'm not a dog
I suck blood but I'm not a vampire