We're starting a new series today where we're going to be publishing lots of riddles for kids about different types of plants and flowers.
Today's collection all have mistletoe as their answer, so these are also perfect for using with our other Christmas riddles.
The first four of these rhyme, while the fifth asks your kids What Am I?
To use that final idea, read the first line of it to your children and have them guess the answer. As the clue is that it's something which is hung but which isn't a picture, they'll probably guess that it's a coat or some other item of clothing.
If they don't guess that the answer is mistletoe after this first clue, read them the clue on the second line and have them take another guess now that they have some additional information. Keep doing this until they either guess correctly or they run out of clues.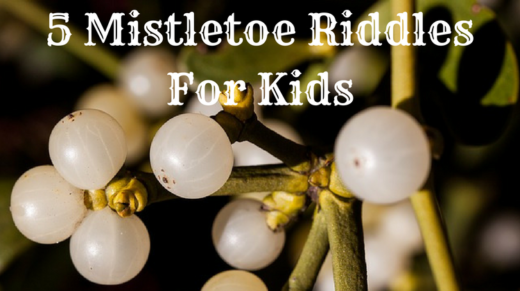 Mistletoe Riddles For Kids
This is a type of plant
That you might see at Christmas
It's hung above your head
And beneath it you might kiss
~
This is a green plant you see
Towards the end of the year
And when you stand under it
You might kiss somebody dear
~
I'm a plant seen at Christmas
Which people hang above
And then they stand beneath me
And kiss someone they love
~
When you stand under this, then you will get a kiss
~
What Am I?
I get hung but I'm not a picture
I'm green but I'm not a coat
I'm a plant but I'm not mint
I'm seen in December but I'm not a Christmas tree
I encourage people to kiss but I'm not Cupid