We're continuing our series of space riddles today with four that have the answer Mercury.
These could also be used with many of our themed riddles, such as planet, solar system, metal and chemistry.
The first three of these rhyme, with the word Mercury completing the rhyme of the third one.
The fourth riddle then asks your children What Am I? To use that, read the clue on the first line to your kids and have them take a guess at the answer.
As the clue lets them know that it has the atomic symbol Hg, there's a good chance that they won't work out that Mercury is the answer (unless they know their periodic table!)
If they don't guess the correct answer, read them the clue on the second line and have them guess again. Keep doing this until they either work out that the answer is Mercury or they run out of clues.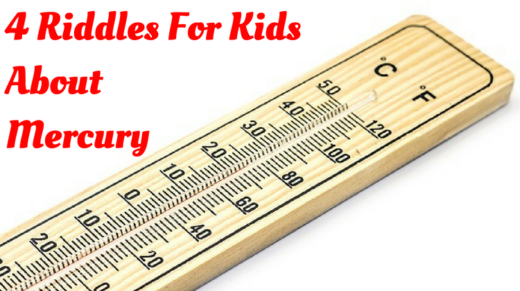 Mercury Riddles For Kids
When the temperature gets higher
It makes this liquid metal rise
It is also a planet's name
Which is the one smallest in size
~
I'm found in some thermometers
As I move up when I get hot
I'm also the smallest planet
And so Jupiter I am not
~
80 is my atomic number
And I have the symbol Hg
I'm the planet closest to the sun
Which means my name is _ _ _ _ _ _ _
~
What Am I?
I have the atomic symbol Hg but I'm not hydrogen
I'm a metal but I'm not gold
I'm a liquid but I'm not solder
I'm a Roman god but I'm not Apollo
I'm a planet but I'm not Mars