We're starting a new series today, so over the next few weeks we'll be publishing lots of riddles for kids which have a space theme.
To kick off the series, we have some riddles that all have Mars as their answer – these can therefore also be used with our other planet riddles.
The first couple of these rhyme, while the last one asks your children What Am I?
To use that final idea, read the clue on the first line to your kids and get them to guess what the answer is. As the clue only lets them know that it's something red, they might answer that it's Santa Claus, a telephone box in England or a strawberry.
If they're incorrect, read them the clue on the second line and get them to guess again. Keep doing this until they either work out that the answer is Mars or they run out of clues.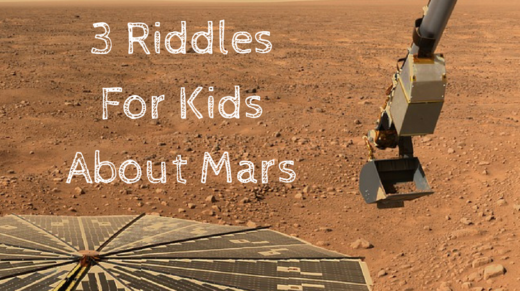 Mars Riddles For Kids
I'm named after a Roman God
I'm the fourth planet from the sun
I am known as the red planet
And have two moons rather than one
~
If you go to outer space
And head away from the sun
The first planet you would reach
Would be this red, dusty one
~
What Am I?
I'm red but I'm not a stop light
I'm named after a Roman God but I'm not Apollo
I have a Mount Olympus but I'm not Greece
I have polar ice caps but I'm not the Arctic Circle
I'm a planet but I'm not Jupiter