For the last few weeks we've been publishing a series of fruit riddles. We're continuing that series today with some more riddles for kids where the answer is a lime.
The first three of them rhyme (with the word 'lime' completing the rhyme of the third one), while the fourth asks your children What Am I?
To use that fourth idea, read the clue that's on the first line to your kids and have them guess the answer. As the clue is that it's something the size of an egg but which isn't a pebble, they might guess that it's a hamster, a candlestick holder or a small bar of soap.
If they don't guess that a lime is the answer, read them the second clue and ask them to try guessing again. Keep doing this until they either work out that it's a lime that you're describing or they run out of clues.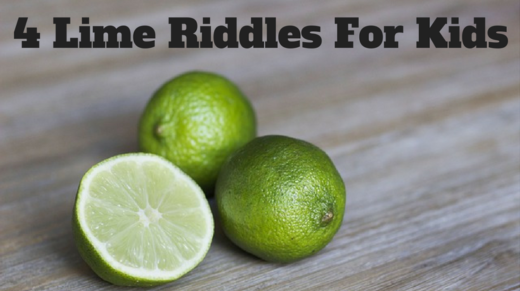 Lime Riddles For Kids
This is a type of green fruit
Which grows on a citrus tree
When it is part of a pie
You might say that it is key
~
This is a four letter word
Which comes before stone and light
It's also a small green fruit
And is a flavor in Sprite
~
I am something that is green
But I'm not parsley or thyme
I am a small citrus fruit
Which means that I am a _ _ _ _
~
What Am I?
I'm the size of an egg but I'm not a pebble
I come before stone and light but I'm not a head
I'm sometimes added to beverages but I'm not ice
I'm green but I'm not a frog
I'm a fruit but I'm not an apple